This week I made a simple long sleeve knit shirt. AND I got a new camera because the other one dies during the photos for the last post!!!! As you can see I am trying to figure how to use the remote clicker etc!
I finally found the knit tee that I love! I have tried several patterns but nothing was right. So. I took my favorite long sleeve tee and lay it out on cardboard tracing around it and made a pattern. Yes, I like the sleeves to be short so they don't get in my way!
A dart on both sides at breast gives it more shape. Using clear elastic strip, or stay tape, or interfacing on the shoulder seams only REALLY helps knits keep their shape.
I do things the hard way so it wasn't that simple. I spent years, yes years trying this and that making a lot of tees that I did not like. Finally, about a year and a half ago I started to actually read and then fallow instructions on patterns. I am learning a lot. Making a neck band and securing it with top stitching or a zig zag stitch keeps everything from stretching out.
I made the skirt and the leggings earlier this winter. It fits great and is comfy!
I LOVE this skirt! It is a Hummingbird Skirt from Cake Patterns
sewingcake.com
. This is not the last one of these you will see me make! The picture on the pattern doesn't look like much but The skirt is perfect!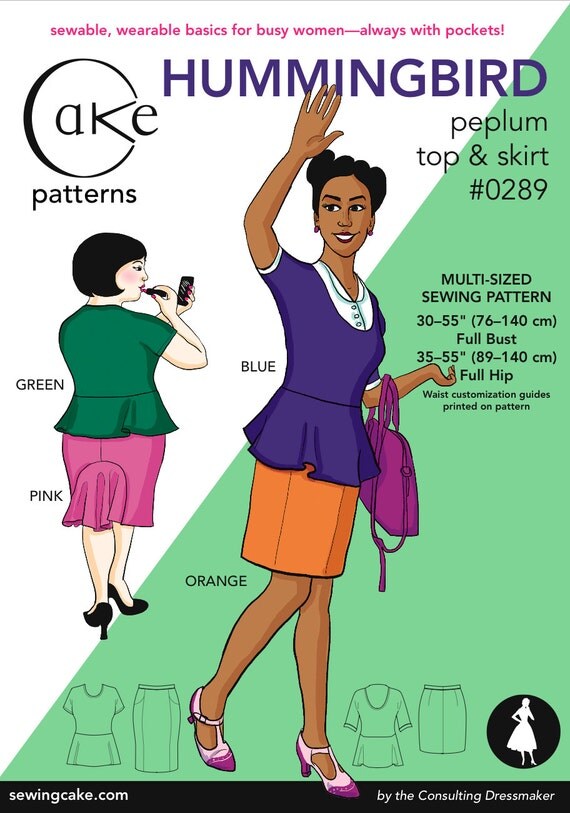 I used a stretch corduroy and lined it with a stretch synthetic knit. I learned that it is important to have a lining so that the skirt won't stick to your leggings! I hate that bound up static feeling!
I was surprised that I could move well in this skirt! and the stretch corduroy makes it so it is not tight around my waist when sitting etc.
Now I line my winter skirts- ones I will wear with leggings- to keep the skirt from sticking to the leggings.
It took a lot of failures to get a nice invisible zipper.
I love the feather in the back of this skirt because it creates a nice shape and allows for real movement!
The leggings are
ooh la leggings
from
Papercut patterns
. They are also great but I am not ready to show them without a skirt and I have not quite perfected them the way I want so there will be plenty more of them to come.